South Florida Law Firm: Perez Mayoral, P.A.
Perez Mayoral, P.A. is a multifaceted and dynamic law firm serving clients throughout Coral Gables, Miami, Miami Beach, and all of South Florida. Our skilled attorneys have extensive experience working in both state and federal courts and have a history of successful outcomes. Our attorneys value our clients and strive to provide the best customer service and up to date information to our clients.
The attorneys at Perez Mayoral have strong ties to the South Florida community and have committed time, money, and effort to several non-profit organizations. We offer free consultations and case evaluations so you can understand your case and our approach to the case before committing to working with us.
About Us
Client Testimonials
Perez Mayoral, P.A.
305-676-8782
999 Ponce De Leon Blvd, Suite 705 Coral Gables, FL
I had a great experience speaking to Erik! He was very nice and very helpful. He took his time to give me a call back and help me understand the situation I am in with a consultation. He was very patient and very professional . I would definitely recommend his services because I can tell he is not just in it for the money but genuinely wanted to help me. Thank you so much again Erik , I really appreciate it!
Perez Mayoral, P.A.
305-676-8782
999 Ponce De Leon Blvd, Suite 705 Coral Gables, FL
Perez Mayoral Law is thorough and professional. They also offer a free consultation to see how they could help you. I highly recommend Perez Mayoral for all your legal needs.
Perez Mayoral, P.A.
305-676-8782
999 Ponce De Leon Blvd, Suite 705 Coral Gables, FL
Perez Mayoral is attentive, knowledgeable and professional. The team of attorneys offer a transparent approach when handling all of my legal questions and concerns. Would highly recommend!
View All Testimonials
Our Attorneys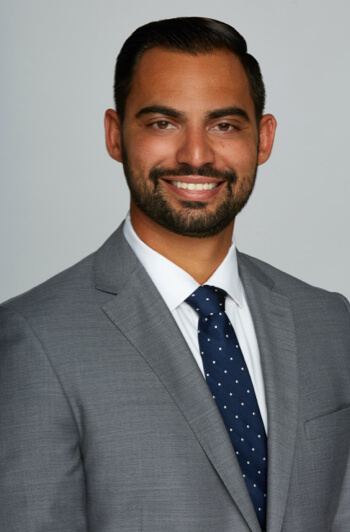 Erik A. Perez
Erik Perez is a shareholder and founder of Perez Mayoral, P.A. He has substantial experience as a trial lawyer as has handled thousands of cases for his clients within his practice areas. Mr. Perez's practice includes several aspects of federal and state civil litigation with a focus on complex commercial, homeowners' association, property damage, and...
More About Erik A. Perez
Michael P. Mayoral
Michael Mayoral is a shareholder and founder of Perez Mayoral, P.A.  Michael focuses his practice on civil litigation, specifically contractual disputes, business litigation, and personal injury litigation. Michael has worked on several high stakes matters in state and federal court throughout the southeastern United States.  As a civil litigator, he has served as counsel in...
More About Michael P. Mayoral
Our Practice Areas
Our principal attorneys, Erik A. Perez and Michael P. Mayoral, will provide you with effective legal representation and well-crafted winning strategies in all of the following practice areas:
Commercial Law and Business Litigation
Our comprehensive knowledge of pertinent state, federal, and local business regulations makes us well-equipped to handle all aspects of business management from those involving formation, operations, and growth to those concerning business succession, sale, or dissolution.
More about Commercial Law
Our business litigation attorneys are adept at handling a wide array of business matters, including:
Business formation, operations, growth, and wind-down

Breach of Contract Disputes

Breach of Promissory Note Disputes

Contractor Disputes, including Surety & Bond Issues

Collection Cases 

Corporate Disputes

Unfair Competition

Defamation, Slander, and Libel Actions 

Fraud
In addition, we are skilled negotiators when it comes to business disputes, whether or not they lead to litigation. We have an excellent track record of winning cases for clients on either side of disputes involving: breaches of contract, promissory notes, and commercial leases. We also handle collection matters, corporate disputes, infringements, and allegations of fraud. Whichever side of such litigation you are on, Perez Mayoral is on your side, fighting aggressively to see that your interests are protected.
How We Can Help
Homeowner's Insurance Claims &
Property Damage Claims
No matter where you live in the U.S. you need homeowner's insurance to cover you for fire, broken pipes, and theft, but here in South Florida we are particularly vulnerable to various types of storm damage.
Not only do you need a well-chosen homeowner's policy to help you recover from destruction caused by the tropical storms, hurricanes, severe thunderstorms, and tornadoes, you also need the assistance of accomplished insurance claim attorneys to see to it that you receive every dollar you are entitled to. The elevated risk of flood or wind damage in our area, coupled with the extraordinary measures insurance companies take to protect their bottom line, make it essential to have the powerful legal representation we provide.
We have extensive experience in property damage cases including cases that involve water from sprinkler and plumbing systems, electrical issues, fires, flooding, wind, natural disasters, and catastrophes. We also handle disputes that arise from those events over the amount of damages owed. Property coverage issues involving arson, fraud, collapse, contamination, valuation disputes, property subrogation and business interruption for repairs and replenishing inventory are also cases we have many years of experience handling.
Whether you live in a house or condo, you can count on Perez Mayoral to handle your claims for water, fire, and wind damage to your home and other property.
More About Insurance Claims
Why Perez Mayoral Is the Best Choice for Homeowner's Insurance Claims
Insurance companies, eager to maintain their profit margin, often try to circumvent their contractual obligations to you (after all those years of paying high premiums) by denying or decreasing settlements for valid claims. They may do so by asserting that:
The loss claimed is excluded from your policy
The actual damage is less than the amount claimed
You damage falls below the policy's deductible
Such maneuvers will not work when you have our savvy attorneys fighting for your rights. As former insurance defense attorneys, we know all the tricks insurance companies use to avoid giving you the resources you need to cope with your losses.
In-depth understanding of their tactics gives our property insurance claims attorneys a major advantage when it comes to negotiations, both in and out of the courtroom. We are highly adept at developing winning strategies to maximize your payout.
Personal Injury
Because our personal injury attorneys know the miseries of serious injury all too well, we will offer you empathic, as well as efficient, service. If you have suffered long-term or permanent harm, or a loved one has suffered wrongful death due to another person's negligence or malice, we are here to fight tirelessly to see that you receive the substantial damages you deserve.
If you have been hurt in any of the following types of accidents, Perez Mayoral will investigate the site, examine police and medical reports, interview witnesses, take care of all negotiations with opposing attorneys and insurance companies, and prepare all necessary documents expediently.
More about Personal Injury
In cases of wrongful death, traumatic brain injuries, internal bleeding, organ damage or loss, spinal cord injuries (including paralysis), amputation, loss of sight or hearing, or other severe or catastrophic injuries, our personal injury attorneys will use their skills to win you compensation for:
Medical and rehabilitation costs

Lost income, present and future

Extended nursing care

Psychological counseling

Pain and suffering

Permanent disability

Final medical costs, funeral costs, lost financial & emotional support

(in cases of wrongful death)
We will also fight to win you compensation if you have been harmed due to premises liability or negligent security in public venues, including:
Apartment complexes or office buildings

Nightclubs or sports arenas

School campuses or public parks

Hotels, motels, or gas stations

Retail stores or shopping malls

Hospitals or other medical facilities 
You are fully entitled to be in an environment protected by adequate lighting, posted cameras, secure, locked fences or gates, and/or security guards, depending on the circumstances. If property owners fail in their duty of care to protect you and you are injured by a robbery or assault, we will help you hold the responsible party accountable.
Landlord-Tenant Disputes:
Commercial and Residential
Disputes between landlords and tenants are common. At Perez Mayoral, we are dedicated to resolving such disputes as quickly and cost-effectively as possible. If you are a tenant being forced to live in untenable conditions, a landlord dealing with a non-paying tenant, or either party dealing with the other issues that may arise in a landlord-tenant relationship, we will see you through negotiations and litigation.
The landlord-tenant disputes we typically handle include:
Nonpayment proceedings 

Rent in Arrears Collection actions

Evictions and proceedings for possession

Post foreclosure evictions, including trial

Property damage or maintenance disputes

Habitability disputes

Sublease disputes, including tenant use of short-term rental services like Airbnb and VRBO
More about Landlord-tenant Disputes
Real Estate Transactions
In addition to our other practice areas, we handle various types of real estate transactions. Since for most people, purchasing a home is the most significant purchase they will make during their lifetime, having an accomplished real estate attorney to guide you through the process is essential. 
At Perez Mayoral, we are adept at creating fundamental real estate documents, such as purchase agreement contracts, deed contracts, lease agreements, and power of attorney contracts. We are licensed title agents who can complete closings on residential sales, commercial sales, and refinancing.
More about Real Estate Transactions
Contact Us
"*" indicates required fields
Contact Our Versatile Attorneys Today for Excellent Legal Representation
Perez Mayoral, P.A. combines the powerful and diversified services of a large law firm with the personal attention of a boutique practice. Get in touch with us for a free consultation? Whatever your legal problem, we will be happy to discuss your options and provide you with the professional help you need.